On-Site Email Checker: plugin to add email address verification directly to a form of your website
Start your free trial!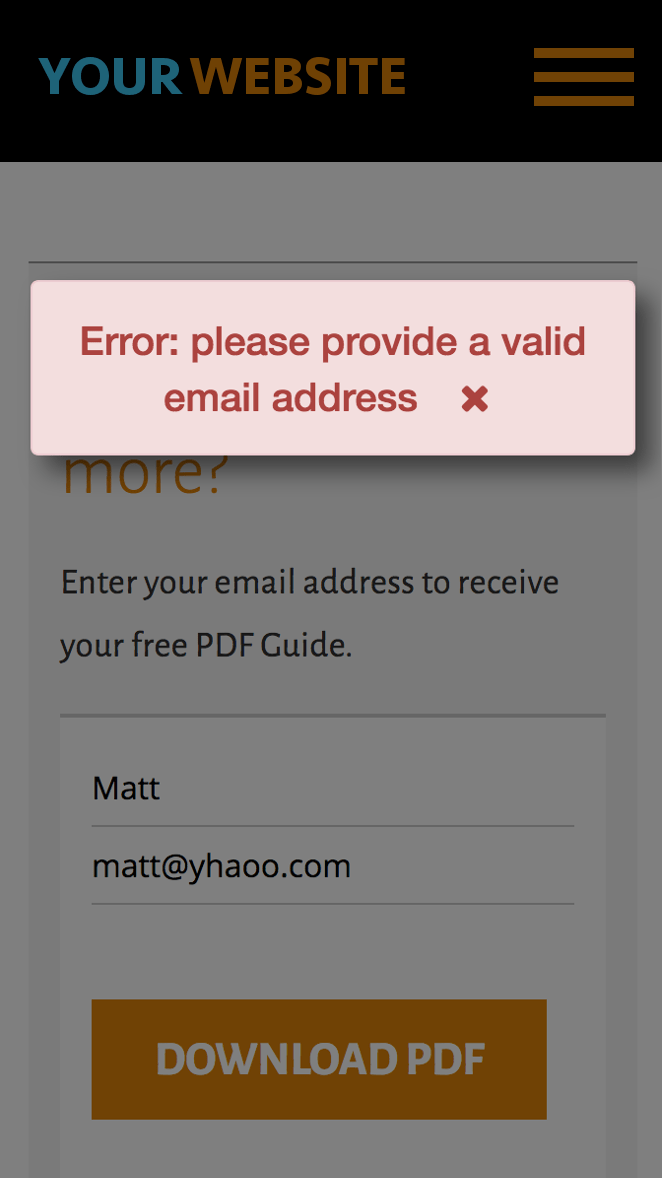 Block invalid email addresses from signing-up to your website
On Site Email Checker blocks the submission of nonexistent email addresses, in real time, directly on your sign up form. Your prospects are requested to provide a valid email address to continue. You only get valid leads.
Common detected errors
wrongly entered, mispelled domain name, mispelled username, inexisting email account, inexisting domain, disposable address, account over quota...
How it works
For each email submission, our tool connects to the email server, simulates sending a message, and verifies if the mailbox really exists. No actual email is sent.
Benefits
Don't lose half of your subscribers with double opt-in.
Deltadromeus verifies your subscriber's email address in one second, directly on your sign up form.
---
Increase your revenue
Turn invalid and fake email addresses into valid and corrected leads that will convert into sales. Gain valuable leads.
Better deliverability
Sending emails to invalid adresses results in hardbounces and low email open rate that get your future emails labelled as spam. Improve your deliverability and increase your email open and click rates!
Save your money
Don't waste your money sending emails to inexisting mailboxes!
Features
Check out what you get with On-Site Email Address Checker!
---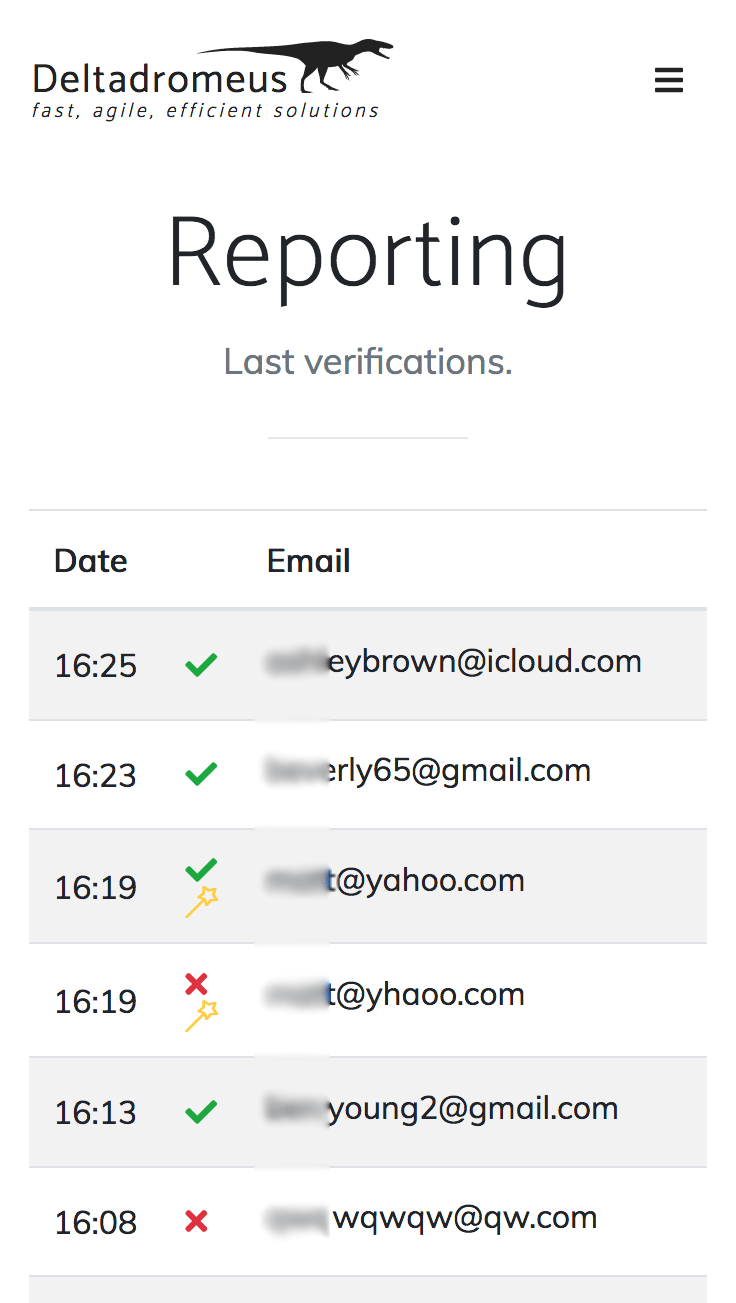 Real-time verifications on your website
Deltadromeus verifies email adresses directly on your website, in real time, whenever a lead is submitted!
Your prospects rectify their email addresses
Prospects who enter an existing email address won't see any change. Those entering a mispelled or fake email address will just be asked to rectify it!
Easy to integrate
Our solution On Site Mail Checker is easy-to-use for non-developers! Integrate it yourself without any technical skills. Our support team is available to help you.
Reporting
Get a precise report on how many email addresses are rejected, accepted and gained after rectification.
Pricing
Monthly plans based on the volume of email addresses to verify
---
Change or cancel your plan at any time. No hidden fees. 1 month free trial: see how many conversions you gain!
We our clients!
Our solution is built for online businesses and marketers who want to focus on conversion. No coding skills needed. OnSite Email Checker is an easy-to-use tool that will help you start collecting real email addresses in less than 5 minutes. Our team offers free support to help you get it work on your website!
The tool « Deltadromeus On-Site Email Checker » is an email address verification plugin that can be added to any website including the very popular Wordpress. This is the easiest to use an email checker from the Deltadromeus suite. It is intended for website owners, on which visitors sign up. Website Email Verifier allows to check email of users who register, in real time, automatically, at the time of registration, to find out if their email address is valid, that is to say that it exists for real.
The control of email is very important to acquire members to whom you can actually write an email, and to whom you can promote your products and services. Nothing is more frustrating than stupidly losing registrants because of a typo in their email address. It represents a loss of money because it is a lost prospect. Check the email address is essential for any web site that acquires a large volume of registrations and benefits from these registrations by performing emailing.
The email checker plugin simply verifies the addresses submitted, via an automatic call to the Deltadromeus verification service, and allows the live correction of invalid addresses by visitors themselves.
Easy to use and install
Wordpress Email Checker plugin is the easiest tool to install on a website, since it acts as a plugin for wordpress sites, or as a simple script for other sites. No computer skills are necessary. This email verifier is intended for non-developers: marketer or website owner without technical knowledge.
It verifies the emails by itself, in real time, from your website and also acts by itself following the verification: either it validates the submitted registration, or it asks the visitor to rectify his email address.
Simple subscription pricing
The ultra competitive price is also distinguished by its simplicity. This is a monthly subscription, without commitment, based on the volume of email to check on your website. Thus the service is continuously active on your site and you can modify or stop it at any time, free of charge, in case of evolution of your traffic.
The Deltadromeus service
As with all of its products, the Deltadromeus team is available to help you install and use the On-Site Check Email plugin. And even more, so if you do not have technical skills, our team will help you and check the installation.
See also our other articles: