Verify and clean email address list
Bulk Email Checker tests your addresses one by one. You can clean your list or database. Only use and keep your valid email addresses.
Common detected errors
wrongly entered, mispelled domain name, mispelled username, inexisting email account, inexisting domain, disposable address, account over quota...
How it works
For each email submission, our tool connects to the email server, simulates sending a message, and verifies if the mailbox really exists. No actual email is sent.
Benefits
Deltadromeus can check a very large volume of emails quickly. Just upload your file and run the verifications.
---
Better deliverability
Sending emails to invalid adresses results in hardbounces and low email open rate that get your future emails labelled as spam. Improve your deliverability and increase your email open and click rates!
Save your money
Don't waste your money sending emails to inexisting mailboxes!
Features
Here are the main features of Bulk List Email Checker product
---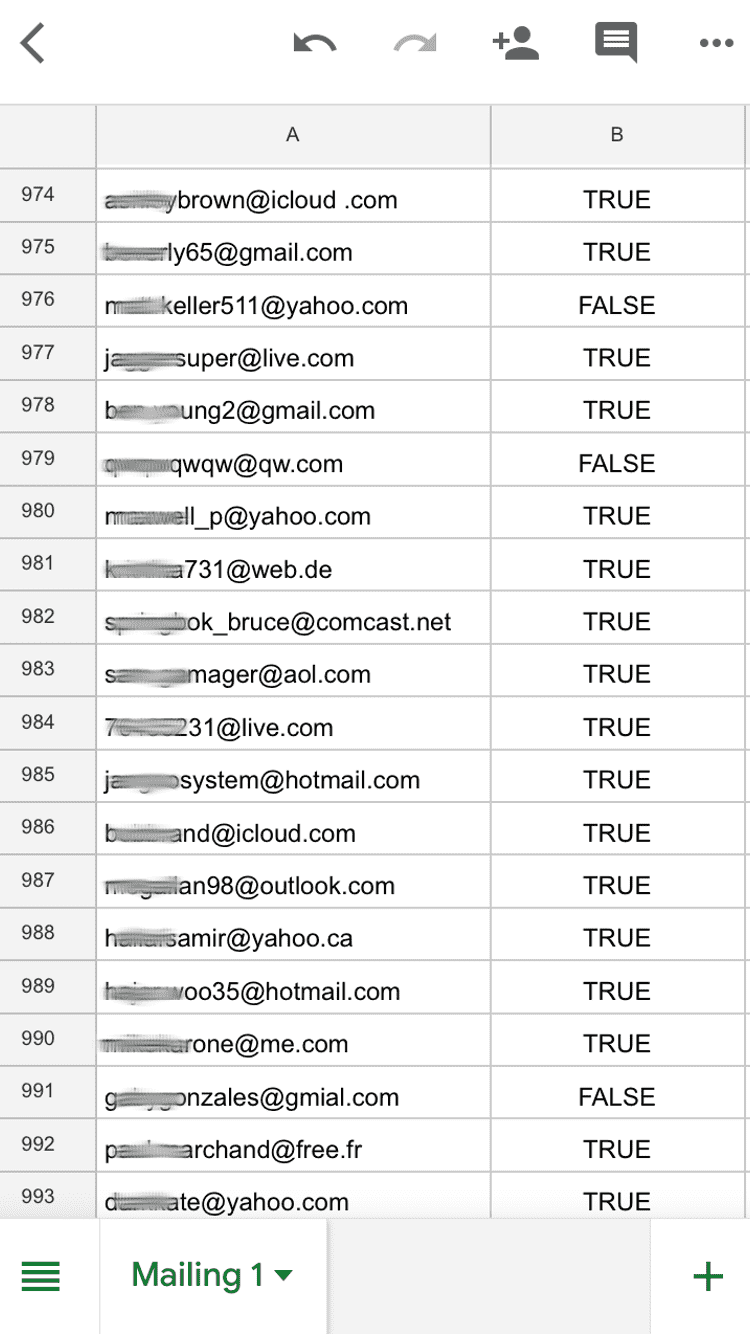 Easy to use
Our solution Bulk Email Verifier is very easy to use: upload the file containing the list of emails to check, then download the same file containing the results.
Multi format
Upload your file in most popular formats: Excel (.xls or .xls), LibreOffice / OpenOffice (.ods), Number (.numbers) or plain text file (.csv, .txt)
Offline checks
While Deltadromeus verifies email addresses, you are free to do what you want. You receive a notification when all checks are completed and your file is ready.
In bulk
We can check a large list from a few thousand to multi-million email addresses
Pricing
Purchase of a volume of email address verifications, to be consumed on demand and valid for 1 year
---
No subscription. No hidden fees. You buy a quantity of checks that you consume as you go, file after file, whenever you want. 100 verifications offered to begin with.
Bulk Email Checker allows you to verify an email list. This email address checker tool from the Deltadromeus professional range is intended for emailing professionals. Before you start sending thousands of emails, you must ensure that the email addresses are valid. A valid email is an email address that actually exists, associated with a mailbox belonging to a natural person. If a too high percentage of the same email is sent on invalid mailboxes, beware of negative repercussions, including the classification of your email in spam for the valid addresses!
The technique to adopt is to go through an email address list verification service. This tool will be able to indicate if a given address is valid or not. It allows to clean an email list or a database.
So it is absolutely necessary to check your email address list is before sending a newsletter to your mailing list, before using your database.
The Bulk Email Verifier online service is very easy to use. You upload the file containing your mailing list. It can be a "spreadsheet" file in any format: xls and xlsx from Excel, ods for LibreOffice / Open Office, numbers for Number on Mac OS X, or text based csv and txt files. The file is then analyzed and Deltadromeus starts the bulk email list validation. This can take a little time depending on the volume of email addresses to verify: from a few thousand to several million. Once the bulk email list checker has completed its process, you are notified, and only have to download your file with the validity results email address by email address.
Our bulk email tester is very popular because the tool is particularly used and reliable about the most popular addresses of Internet users.
The price is among the most competitive, depending on the volume of emailing list.
As with all products in the range, the Deltadromeus team is available to help you use its services. Contact us for any request or need. We constantly evolve our products according to your needs, and the bulk email address list checker is no exception!
To deepen your knowledge: